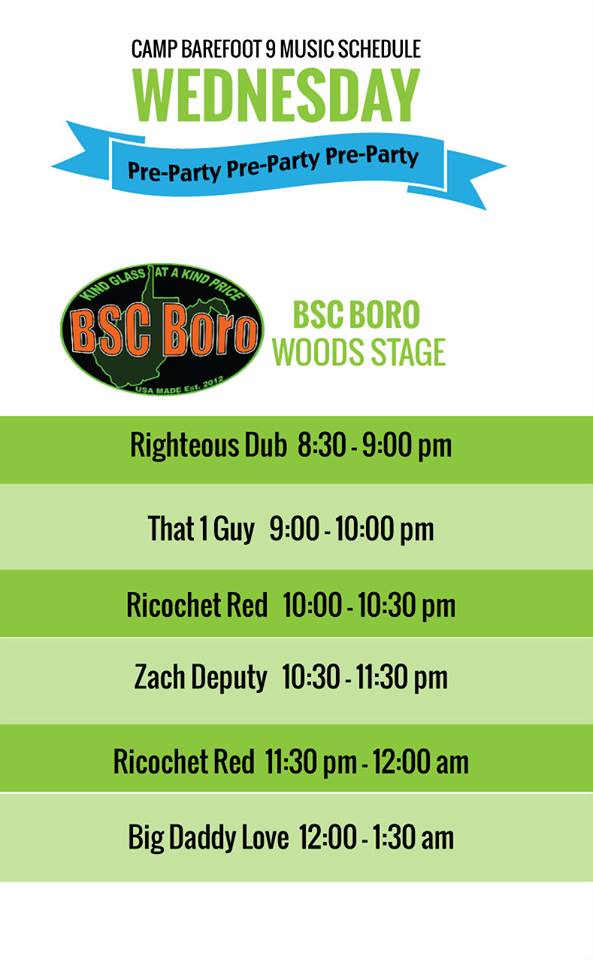 Righteous Dub had the honor of kicking off the festival & opening up the pre-party at Camp Barefoot 9 this year with some Dubbed out Reggae vibes! Afterwards I man was able to enjoy the rest of the festival with good friends, family and the mountains of West Virginia beneath I feet.  Much respect to the Barefoot Crew for making it all happen and keeping the vibes right each & every time.
At Camp Barefoot 9, Righteous Dub opened up for all the amazing artists including: That 1 Guy, Ricochet Red, Zach Deputy, Big Daddy Love, Big Gigantic, Greyboy All Stars, Dumpstaphunk, Emancipator, The Floozies, Kung Fu, Stick Figure, Twiddle, TAUK, The Nth Power, Orgone, Giant Panda Guerilla Dub Squad, Turkuaz, Moon Hooch, Turbo Suit, The Movement, The Mala, Spiritual Rez, Big Something, Pgrass, The Fritz, The Broadcast, ELM, Jackass Flats, Dead 27s, People's Blues of Richmond, DELTAnine, Mighty Joshua and the Zion,  5Deaf Scene, Moogatu, Cara Kelly and the Telltale, MH & his Orchestra, BSide Shuffle, Fletcher's Grove, Buddha Council, Murphy's Kids, Major & the Monbacks, Dale & the ZDubs, The Dharma Initiative, Second Self, Matt Jones & the Bobs, TreeHouse!, Shawn Owen Band, doby, Galaxy Dynamite, Aquafuture, Imperial Blend, Sol Frequency, Urth, The Company Stores, Micah Foxx & the Hounds, Cloyd the V, Nicky C & the RSB, Dr. Bacon, The Deems, The Reef, Rasta Miles.
Big thanks to August J. Photography for capturing the vibes during the Righteous Dub set on a dewey Wednesday evening!